St. Louis Digital Marketing Agency
Looking for a digital marketing agency who will customize your marketing solution based on facts and not guesswork? You found them.
3-Day Challenge: DIY Websie No Programming No Tears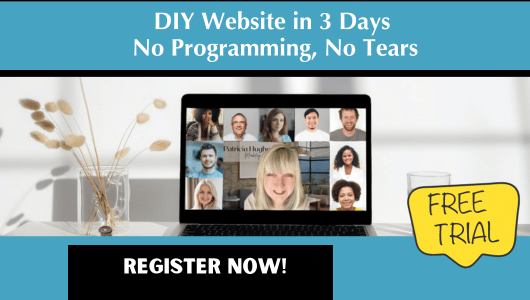 EVENT INFORMATION
Date: October 25, 2023 - October 27, 2023
Time: 11:00 am - 12:00 pm ~ Cost: Free with Registration
Duration: 60 Minutes Each Day ~ Location: Zoom

While many of our clients are midsize or larger businesses, we're here to support small business owners too. Our services for small businesses include both group and private coaching. Right now, we're excited to offer a 3-Day Challenge, designed to help you create your very own 4-page website without any programming or tears. It's a quick and hassle-free way for individuals and small businesses to kickstart or enhance their online presence.
In this course, you'll not only learn how to craft a simple website, but you'll also grasp the fundamental elements that contribute to a successful site, irrespective of its size or purpose. We'll introduce you to the array of tools available and guide you on choosing the right ones for your specific needs. You'll even uncover the secrets to winning Google's favor, securing a high ranking in searches.
Furthermore, we'll equip you with the knowledge to expand your website and master essential digital marketing elements like crafting engaging landing pages and creating irresistible lead magnets. If this sounds like the kind of support you need, waste no time and secure your spot for our challenge today.
Register Now!
How To Get A Bigger Market Share
How long has it been since you did a real analysis of your competition? Do you know how you stack up against them? Are you lagging behind? Do you even know who your potential customers view as your competitors? You can get prompt answers to these questions.
Now is the time to get your customized competitive analysis. This isn't just some software program that tells you how you rank on Google against your competitors. Our team of seasoned marketers look beyond the data that software programs produce.
Competitive analysis done correctly, will help your company develop a strategic marketing plan. The analysis can spot trends in your industry, uncover under served markets, reveal new product or service offerings, and help you decide on a competitive pricing model.
An in-depth marketing analysis will uncover how your potential customers actually view your products or services against your competitors. It doesn't matter that you may have the superior product or service it's how your customers view the your products. Without current analysis you are most likely losing out on market share because your current marketing is not properly addressing the misconception about your company and products. Learn more about our competitive analysis offering or simply contact us today to schedule a complimentary meeting to discuss your unique situation.
Order Your Marketing Assessment
---
St. Louis Digital Marketing Company
What really is digital marketing?
Digital marketing means many things to many people. To some, it's just getting your website up and running and then jumping into Google Adwords. For others, you're not doing digital marketing unless you're doing social media. For us, marketing encompasses the traditional aspects of product (what you're selling), price (at what price), promotions (everything from advertising, publicity, to sales) and placement (how the customer or client receives their product or service). Marketing entails the fundamentals, such as the life of the lead and life cycle of your product or service. It involves knowing your target audience and connecting with them to solve a problem.
You see, everyone buys a product or service to solve a problem. Some problems are easy. You're hungry, and you buy food. Other problems are more complex. You need to grow your company, but you're not sure what to do first. You try to solve the problem by telling your prospects all about the widget you're selling. A Harvard marketing professor, Theodore Levitt, once said "People don't want to buy a quarter-inch drill. They want a quarter-inch hole." Too many marketers are talking about the quarter-inch drill and not the quarter-inch hole.
So, to us, marketing pretty much touches all parts of the business. If you're spending money to get leads but the person answering your phone is rude or just plain bored, you're not completing the circle of marketing. In fact, you're wasting your money. For example, let's take a home service company, such as a plumber. They are spending money on Google Adwords. However, their service person doesn't answer all the customer's questions. Plus, the service person doesn't show identification or wear a uniform. That means the company is most likely skipping a big part of the marketing. These little things may add up to losing a prospect or client, thus increasing your advertising and marketing budget.
Digital marketing doesn't stop when you get a lead. It doesn't stop when you have a paying customer. It doesn't stop when a client receives their service or product. A good digital marketing company will give you tactical marketing plans to leverage clients and increase client's life time value.
Sorry if you were expecting to read all about our whiz-bang digital marketing services such as search engine optimization, or how we're the best at Adwords management, or how our website designers are the top in the industry. Above all, ePlus Marketing is a company that focuses on our client's results and to do that we focus on a complete marketing strategy and not placing clients into the next shinny thing. Over 20 years of experience taught us that most managers want to know more about a company's approach to marketing rather than the technical aspect of the service. So, as referenced above, we're talking more about the quarter-inch hole rather than drill.
For a true digital marketing company to succeed and drive results, they first have to really understand marketing. Most companies don't want just a website, they want leads and sales. They don't want to be on social media to be cool, they want results. Without really knowing what marketing really is, most companies are missing the main foundation of what makes things work. Sure, you may get some sales and some leads, but if you truly want to have your marketing working efficiently you need a complete marketing strategy that is customized for your company, your industry, with your unique set of circumstances and your budget.
If you also have the mindset that marketing is more than a website and more than fancy design, let's talk.Contact us today at 314-569-9880.
---
About You and Your Digital Marketing
If you're on this website you most likely are looking for a solution to your sales and marketing problems. Or you're a competitor looking to check out the competition. :) That's okay we're used to competitors checking us out. But this is about the business owner, chief marketing officer, marketing director, product manager or VP of Marketing trying to find out if we can help solve their marketing problems. They want to grow their sales or increase leads and their current solution is not performing.
Now is the time to get your customized competitive analysis. This isn't just some software program that tells you how you rank on Google against your competitors. Our team of seasoned marketers look beyond the data that software programs produce.
Here's Why Most People Work with Us
Most of our clients tell us that they want to take their business to "the next level". Of course the "next level" is defined by them and is different for most people in some regards. When you boil it down it ultimately comes to increasing sales, market share and profitability. Here's a list of what clients tell us about their previous situation:
They're tired of getting the same excuses from their current agency.
They figured out their current provider is really only good at programming or design.
They thought they hired a marketing company but they really only push one or two things.
They've heard about website conversion but not from their web company.
They are tired of their marketing not working and they are researching alternative solutions.
Until they came to us they never had a marketing company talk to them about conversion rates, profit margins, or marketing and sales processes and systems.
They get results. Many of our clients get a 3:1 return on investment. Others have seen more than 5:1 return.
Regardless of how you got here, if you're looking for one or more of:
An agency that has marketing and business solutions.
A team that provides comprehensive approach to marketing.
A firm with a business background, not just programming or design.
A business that's has a solid history of successful experiences.
A company that can help take our company the next level.
A group that has expertise in global or national marketing, not just local.
An honest company that just won't take my money and not do the work.
A firm that puts together a marketing strategy that fits my needs, industry, and budget.
An agency that has detailed planning.
A team that communicates with us in simple terms.
A company that is honest and has integrity.
An agency that if they can't help in an area, they have partners who can.
A group that has passion for their work and doesn't just work for a paycheck.
A digital marketing that will produce real results.
If any of these things ring a bell with you, then you're in the right place. Our clients appreciate our up-front approach. They know that we're constantly looking for ways to improve their bottom line. They know we have their back and we're fair and honest. They also know that our number one goal is their success. If they're not successful, we're not successful.
So, where do you start? If you know you need a new website design,email marketing, Adwords management, search engine optimization or any other marketing service then contact us today and let's talk. If we're not a good fit for you, we'll let you know. We only take on clients that meet a certain criteria. The criteria are not in size, or industry it's more in how you run your company. What are your goals and mission? We strive for integrity and we expect the same in our clients. Our best clients are open to new ideas. They listen to alternatives and engage in a team approach. We mainly work with leaders who are interested in personal growth as much as growing their business or division.
If you're just looking around or thinking about a change you can get our free marketing analysis. If nothing else, you'll get a second opinion. And, yes, we have told people they're okay where they're at, but they just need little tweaks.
So, either way, your first step would be to call us today at 314.569.9880 and let's discuss your situation and if we're a good fit for your digital marketing needs.
Order Your Marketing Assessment
---
Latest From Our BLOG
Our BLOG contains articles and videos on information on digital marketing, business development, sales, technology and career and mindset tips for you. We also post news items regarding the latest trends and research data in marketing espcially items focusing on digital marketing, social media, website conversion and consumer behavior.
What They're Saying
Take a look at some of the comments our clients have said about working with The Sumner Law Group.
With over 20 years of experience, ePlus Marketing consistently utilize comprehensive analytical skills and creative resources to provide high value marketing exposure for their business partners. Their in depth knowledge of internet marketing, sales lead generation, e-commerce, brand strategy and SEO coupled with their positive attitude and win-win approach to business produce outstanding results for their clients. ePlus Marketing agency can partner to best accomplish business growth goals. They consistently help clients increase revenue and profits while reducing costs. ePlus Marketing truly provides an outstanding internet platform that produces measurable results at a very fair price. They work for companies world-wide, and just not in St. Louis, MO.
We have been very pleased with ePlus Marketing in producing our Web site. You have been very responsive to our needs and flexible with our design request. At the start of the project, everything was laid out and described, including your approach, materials needed and explained everything in everyday language. I especially liked that you kept on top of the details and constantly contacted me with status reports and items needed. We're extremely pleased with the results and feel we have a very professional design. It loads quickly, looks good and is very informative. The site has exceeded all of our goals. Thanks for doing an outstanding job we would not hesitate to recommend ePlus Marketing.
We selected ePlus Marketing to help us with our Website because of their phenomenal customer service and inspiring ideas. I am extremely proud of the new Website and ePlus Marketing continues to bring new ideas and improvements to us.
If you want to increase your success, leads, sales and most importantly, Return on Investment (ROI) of your digital marketing investment, I would start with the digital marketing agency, ePlus Marketing. I highly recommend them for ALL of your marketing needs!
We are extremely pleased with our Web site created by ePlus Marketing. The site is very professional designed and Patricia gave us some ideas we didn't even think about. The project from start to finish was professionally handled and very reasonable priced. We would strongly recommend her to any company or organization."
"I have never met a more passionate person when it comes to global online marketing than Patricia Hughes, founder of ePlus Marketing. We have relied on each others expertise over the years on various projects and she continues to impress me with her knowledge in the space from SEO - SEM - Web Development- Globalization and much more. This business moves fast and if you don't stay on top of it you will get passed by. You don't have to worry whether or not that will happen to you if you are working with ePlus Marketing. I highly recommend ePlus Marketing
ePlus Marketing's expertise in web design and internet marketing has helped us increase our international web presence by 25%. We highly recommend them to anybody wanting to Go Global Online!
Our experience with ePlus Marketing has been exceptional. Patricia Hughes has been reliable, knowledgeable, and has helped us make decisions to develop the most effective online store possible. We have benefited from her advice, talent, and all the hard work she put into our project. We fully expect the web site to be a huge success mainly because we chose the right design and marketing team. I would highly recommend ePlus Marketing to anyone.
We could not have done this without all your time, dedication, work, professionalism, and overall support. To top it off, you've simply been fun to work with and are very generous and caring people. The end product is very good. Everyone who has seen the site has been very, very excited.
ePlus Marketing has been great to work with and we highly recommend them. They've over delivered with everything and every idea they bring us has increased our business tremendously. Our overall sales increased each year. What they have done for our Prom dress sales is unbelievable! We don't have to worry or even thin about what to do for marketing - it's all taken care of with ePlus Marketing.
I have been with ePlus Marketing for a long time and one word that really stands out in my mind to describe this firm is "professionalism". They will bring you a complete project plan that is laid out step by step and the time and money that it will take to produce the project. But their efforts don't stop there..even after the project is completed, they will continuously work with you to bring new ideas to the table to produce even more results for your internet marketing. I believe that ePlus goes above and beyond and that is why I would never consider working with another firm. I can't recommend them highly enough. I know for a fact that I will be with ePlus Marketing for a very long time to come. I love this firm!
Our new site has far exceeded our expectations. I would like to take this opportunity to thank you for all your help on creating a web site that we at DMJU have been wanting for a long time. I realize we are not the easiest group of people to satisfy, but knowing we can rely on your prompt attention and technical knowledge is very reassuring. In particular, your many marketing suggestions on reaching both prospective and current clients is exactly the expertise on which we need to rely. I have no doubt that I made the right decision when I chose ePlus Marketing.