Lead Generation Done Right
"God provides the sails, but man must provide the wind" St. Augustine
Your sales won't increase by themself. You must provide the work to get it done. The work includes, the right strategy and the right tactics implemented consistently. You may have SEO, Google Adwords and perhaps social media and email marketing and other tactics. But do you have the process written down? Is it being tweaked to provide the best conversion optimization. Do you answer the phone the same way? Ask the same questions? Or is your sales funneling missing a few things?
Let us help you increase leads and sales
Our proven methodology can help you:
Attract targeted prospects to your Website
Convert site visitors into leads
Qualify and score leads
Develop, implement and manage lead nurturing campaigns
Maintain customer retention programs
Develop, implement and manage client leverage programs
Not all Websites sell something directly. It's not easy to put a service in a shopping cart and check out. Other products are too complicated or customized to use an e-commerce Website. Still other companies, for a variety of reasons do not want to engage in online sales, but need to attract customers to come into their store or call their business. In these cases the Website owner use the Internet to attract prospects, increase awareness, assist with client relationships, and help with leveraging customers. A Lead Generation system can be developed for a B2B (business to business) or B2C (business to consumer company).
YOU NEED A STRATEGY TO ATTRACT, CONVERT, RETAIN AND LEVERAGE CUSTOMERS.
A sound marketing strategy with tactics is the first step toward generating leads. You will need to setup a written process and system so that you can correctly and consistently implement, test, measure, analyze, and refine. The technical tools you can utilize with the ePlus Marketing systems include:
A sound marketing strategy with tactics is the first step toward generating leads. You will need to setup a written process and system so that you can correctly and consistently implement, test, measure, analyze, and refine. The technical tools you can utilize with the ePlus Marketing systems include:
Customer Relationship Management Programs
eMail Marketing Campaigns
Data Integration
Social Media Integration
Automated Drip Marketing Campaign
Customized Postcard System
Website Analytics and more
After carefully defining or updating your target audience demographics and psychographics, you need to develop what we call "Life of the Lead". Leads are ranked according to your industry's specifications from Suspect, Prospect, Lead and Client. We can given connect the prospect's digital foot print to the database. When calling a prospect, wouldn't you want to know if they just came back from a fantastic vacation, or play golf or maybe they just published an article. All these things are value in building a relationship and trust with your prospect.
Data is collected and systems are built for your suspect to receive valuable information which can help them in their business. Perhaps it's the latest article about market projections in their industry. Or it's an article about their competitor. Or perhaps they receive a postcard from you congratulating them on a promotion or a book they just published. Keeping up with these details is impossible unless you have the right marketing lead generation and client nurturing tools and system to help you nurture a prospect so that you can turn them into a lead.
Imagine that your prospect tells you that they are not able to make a purchase until August. That's 6 months away. So, you put them in your CRM system to call in early August or even late July. However, what if you knew that in May they've been to your site 5 times in the last week. They've also posted on Social Media comments about a solution similar to your product or service. Are they gathering information in May to make a decision in August? Or, what perhaps, what is really going on is that the purchase will be made in May. Your Lead Generation System gives you an alert telling you the prospect's activity and moved them into to the "must call now" category. They are now a "hot lead" and not just someone being nurtured to remember you and your company.
What type of system do you have? What kind of system do you need to close sales faster and more efficiently? That is where a company like ePlus Marketing can come in and help you. A full service digital marketing company just doesn't design and develop and website, SEO, Social Media and Google Adwords. They should be assisting you in closing the from turning a suspect to a client.
All of your marketing systems needs to work together. They more they are integrated together the less manual work you will have to do in order to get reports, have your website and other marketing tools work seamlessly and in the end, the less it will cost you. One of the solutions is our all-in-one Website system. It is a cloud program which combines a Customer Management Relationship program, eMail Marketing Software, Website Content Management System and more.
Our main development system is a cloud-based, all-in-one system that gives you easy of updating and expandability. This system not only gives you a Website that you can update without knowing programming, but it also has an email marketing, contact management, and e-commerce functionality built into it. There is no software to download or update -- it's a cloud based program so update and improvement happen automatically. Find out more amazing advantages of this Website marketing tool.
Marketing Promotional Mix
Your B2B or B2C marketing system will include an integration of online and offline promotional mix. Depending on your situation or need, your marketing program may include:
Cold calling service to qualify leads and schedule appointments
Combine direct mail with online marketing campaigns
Follow-up after the sale with a combination of mail, phone call and email
Tie your Website to your trade-show participation
Your lead generation marketing strategy will be customized to fit your needs.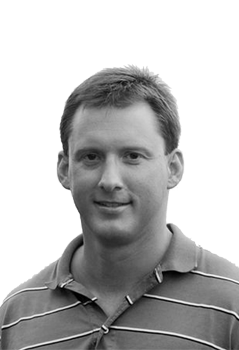 When we met Brad he was a new Global Market Development Manager at Solutia. Solutia is a 2.8 billion dollar international plastics material and resin manufacturing company. Brad was in charge of a brand called Vydyne, a nylon plastic pellet which was sold by the tons around the world. These plastic pellets go into the manufacturing of a variety of products, from airplane parts to executive chairs. Solutia is a spinoff from Monsanto and did not have a marketing department. The new spinoff left marketing up to individual global market managers.
Meet Brad, from
Solutia, Internaltional Manfucturer
The main problem for Brad was that Vydyne's current website was not producing leads and did not support the sales staff. He also knew the site did not represent the brand and looked unimpressive. The site was put together by programmers without a thought to lead generation, user experience, sales support, and most importantly, it was not globalized for international use.
ePlus Marketing competed for this project with several of the largest advertising companies in St. Louis. Brad was impressed by our expertise, which was evident in the questions we asked. Unlike other companies, we gave Brad an approach based on return on investment. Plus, Brad needed a firm that understood international digital marketing. Brad needed to increase sales throughout Europe and Asia with 8 main targeted countries, especially China. This meant that the website needed to go beyond just taking a website and translating the text to fit the target country's language. Everything had to be localized to be culturally customized. Colors, male vs. female images, types and styles of images and other aspects need to be based on culture.
The results were astounding. Within a year, website traffic increased by over 120%. The site ranked on the first page and often in the first position within Search engine ranking : Google, Yahoo and Baidu (China's search engine). The sales staff saw a 300% increase in leads. We told Brad that we focused on return on investment. The results were far beyond his expectations. Before Brad hired us, the Vydyne website and online marketing produced approximately $9,000 in gross profits a month. With our help he saw gross profits increase to $900,000 a month within a year.
"We could not have done this without all your time, dedication, work, professionalism, and overall support. To top it off, you've simply been fun to work with and are very generous and caring people." - Brad Carmody, Solutia